Expert Project Management
Custom Designs
Restoration
Drawings
Modeling
Quotations
Custom Designs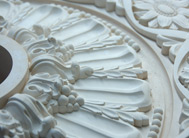 Balmer Architectural Mouldings Inc. works with architects and designers to achieve new custom designs. The starting point can vary according to the situation, and can begin with a client's
Sketch
Drawing
Photograph
Modification of an existing moulding
Recreation of an existing decoration or fragment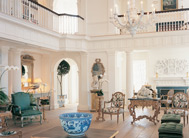 The nature of cooperation can be varied with the following options:
Complete Design, incorporating precise historical reference where appropriate.

Design Drawings
Workshop drawings
Mock-ups
Samples

Design Support

Consultation and Advice on suitable decorative mouldings
Shop Drawings

Technical Support

Translate the proposed design in workable and cost effective schemes
Includes method statements
Workshop drawings
Restoration
Balmer Architectural Mouldings Inc. is capable of partnering with clients to perfectly restore historical interiors.
There are several key phases in a restoration project:

A Site Survey is the first step to assess the integrity and scope of the existing architecture and mouldings.
During this initial phase, Balmer Architectural Mouldings Inc. works with local building preservation authorities to ensure all restoration work follows the proper guidelines.
After completing the Survey, Balmer Architectural Mouldings Inc. provides a report describing the condition of the existing decorative plaster work.
Following a discussion with the client of the project's scope, Balmer Architectural Mouldings Inc. provides a Budget Cost Analysis with full explanations of the technical issues involved.
If the client is interested in moving forward with the restoration project, Balmer Architectural Mouldings Inc. provides a formal Quotation. This provides the client with our in-house resources for drawing, modeling, crafting, and installing the mouldings to return the interior to its original beauty.
Drawings
Balmer Architectural Mouldings Inc.'s Project Managers interpret our clients's architectural drawings to create shop and installation drawings on CAD workstations for client review.
We then work closely with our clients to ensure that the details are perfected to the designer's specifications, and engineered for flawless installation.
Modeling
Next, our artisans utilize the approved CAD drawings to work with clay, plaster, steel, and wood to build original models with perfectly defined enrichments.
Model making is a process of translation and creation.
Knowledge of materials, prototyping, and manufacturing techniques enable Balmer Architectural Mouldings Inc. craftsmen to refine drawings into physical models.
At every step in the process of translating sketches into models, the experience and skill of Balmer's artisans is critical to the creation of a three dimensional prototype that perfectly matches the designer's vision in scale and detail.
Balmer additionally provides unique modeling capabilities that utilize 3D printing technology.
Quotations
Most of the projects in which Balmer participates are quoted and delivered on a supply and install basis with Balmer Certified Installers provided on the site.
For a custom quotation, initial tooling costs include the shop drawing, enrichment sculpting, and the creation of a model and a mould.
Gypsum plaster castings can be produced to meet your requirements at any size. We are pleased to offer our recommendations and accurate quotations to contractors, designers, and architects
Copyright © 2021 Balmer Architectural Mouldings Inc. All rights reserved.